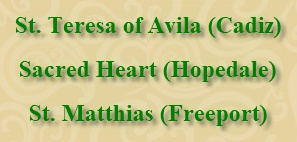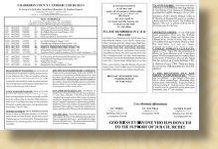 Harrison County Ohio Catholic Church St Teresa of Avila Cadiz St Matthias Freeport Sacred Heart Hopedale Diocese of Steubenville Mass Times Schedule 143 South Street

Announcing
St Teresa of Avila 500th Birthday Anniversary Celebration
Sunday, October 18th, 2015
St Teresa of Avila Parish invites everyone to come celebrate our Patronal Feast Day as we mark the 5th centenary of the birth of this Holy Carmelite Saint with mass, a procession, a meal, and prayer together!

• Solemn Mass of Saint Teresa of Jesus, Virgin and Doctor of the Church
• Outside procession with statue of St Teresa
• Covered dish dinner in Activity Center
• Skits, games, and presentation on the life and spirituality of St Teresa
• Holy Hour and Benediction

Ends at approximately 3PM
All are welcome!
No charge!


Events
begining at 11:00AM, in St Teresa of Avila Church in Cadiz, OH